MPL Incorporated has remained a leading contract manufacturer since 1991, specializing in high-quality printed circuit board assembly services with advanced surface mount technology experience and capabilities. Our streamlined facility is equipped to tackle all of your prototype to high-volume production needs with the speed and precision that your custom-engineered electronics deserve. Our state-of-the-art facility is responsible for maintaining MPL's excellent OTD and RMA rates, averaging a 0.01% RMA and 98.7% OTD over the last three years. Discover more about how MPL serves our customers needs and explore everything our facility has to offer.
Outfitted with the Industry's Most Advanced Surface Mount Technology (SMT)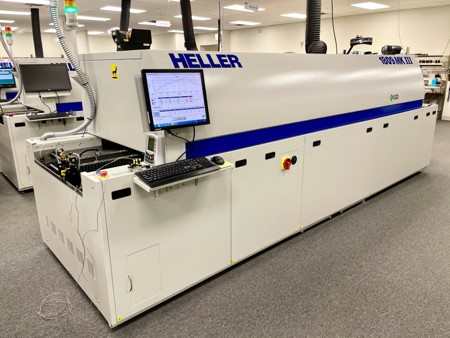 Our SMT department has (4) identical high-speed surface mount lines each consisting of a DEK® printer and (2) Samsung® full vision pick-in-place machines, as well as a Heller full convection reflow oven. Having (4) identical SMT lines allows us to offer increased capacity and flexibility, while also maintaining the process from one SMT line to the next—not something typically seen at a company of our size.
Streamlined Prototyping and Pre-Production Assembly Solutions
We operate (2) advanced prototype lines to support your pre-production requirements. Our through-hole area is complemented by (10) through-hole workstations, a through-hole insertion push line and an Electrovert® VectraES wave solder machine as well as an Electrovert® Aquastorm inline cleaner. We also utilize (2) Pillarhouse® selective solder systems, one for leaded and one for RoHS assemblies, (2) Mirtek® automated optical inspection systems, and real-time X-ray inspection capabilities.
20,000 Square Feet of Fully Optimized Manufacturing Space
Our environmentally controlled building features state-of-the-art ESD protection, including built-in grounds and static dissipative carpeting. Built with growth in mind, the building also features an expansion wall, and the grounds permit another 16,000 sq feet of building space when it's time to take the next step. In 2020, we expanded our building with an additional 5,000 sq. feet, totaling 20,000 sq. feet of manufacturing space.
Expedited Shipping Services
Being located in the Warren Road Business Park has proven to be a key location. With UPS 2 buildings away (literally) we are assured to be the first stop in the morning and the last stop at night. FedEx, Tompkins County Regional Airport and a Courtyard by Marriott are all located off of Warren Rd. within one mile of MPL.
Put Our Precision Electronic Production Facility to the Test
MPL Incorporated is your single-source contract manufacturer with versatile capabilities in printed circuit board assembly (PCBA) and other precision electronics solutions. Inquire below to learn more about the full capabilities of our facility or to discover how we can tackle all of your prototype to high-volume production needs with unparalleled results.